As a woman / cyclical being, health, vitality and pleasure are your birthright. At Your Sacred Pelvis we support women to claim this birthright. Perhaps you have been struggling with one or more chronic or acute health conditions related to digestion, menstruation, menopause, urination, common pregnancy or postpartum discomforts, or perhaps you have pelvic pain or pain during sex or other struggles with your sexuality.
Perhaps NOW is the time to take the reigns and make the changes that give you more access to yourself, your health and your pleasure.
"This course provided a safe space for me to explore my relationship to my pelvic bowl and invited me to learn daily practices to care for this divine part of my Being. I feel like a door has been opened and I'm welcoming myself to enter. Chaya's energy and knowledge helped me feel at ease as I entered some new territory of my body."
Painting by Martin Clark Bridge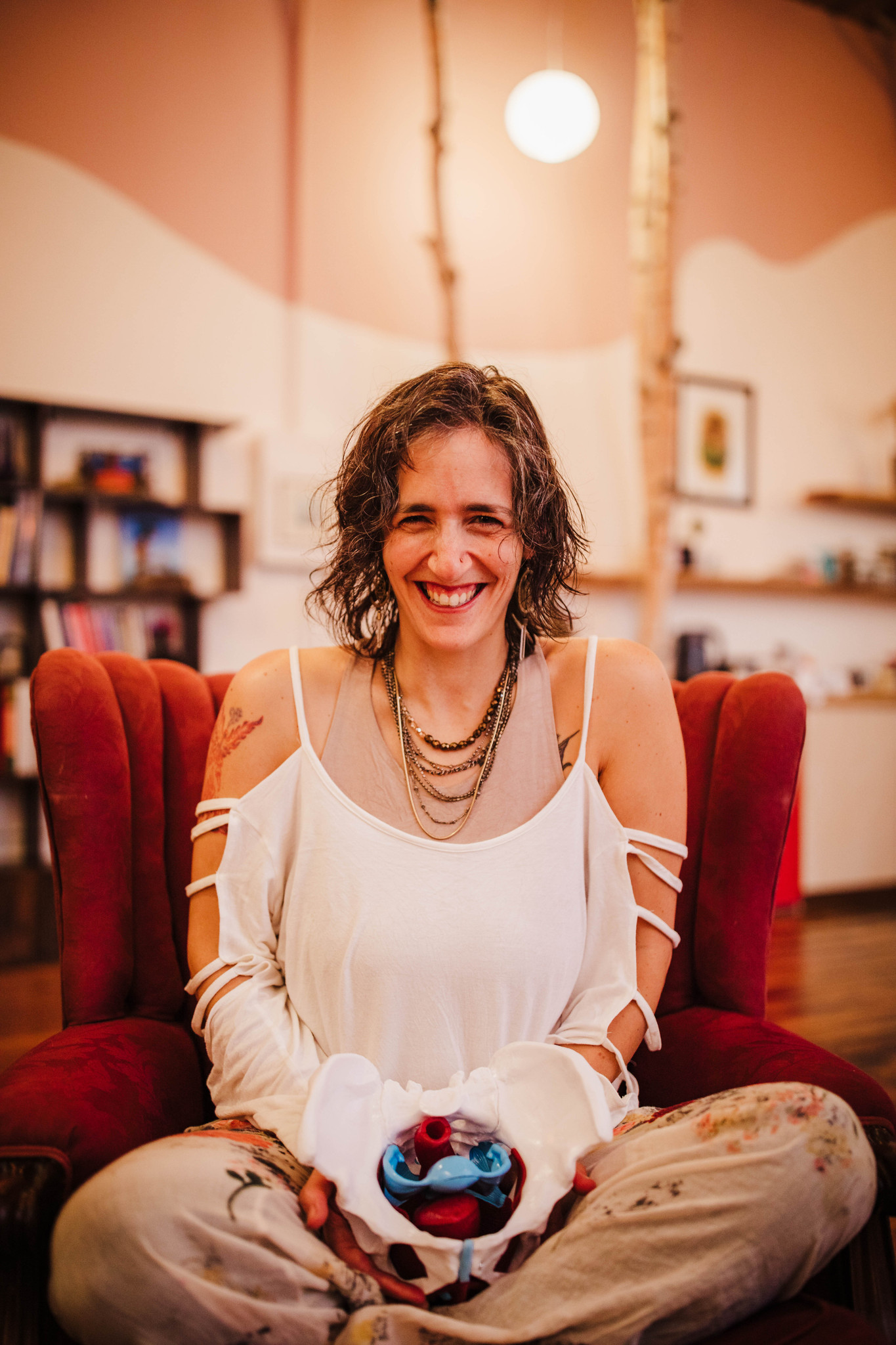 Hi, I'm Chaya Leia
Since opening my practice in 2009 I have had the honor of supporting hundreds of women and wombkeepers in their healing. My focus is on supporting healing from struggles related to menstruation, bladder health, digestion, pelvic health, pregnancy and postpartum. My passion is supporting people to connect to their pleasure, whether that be sexual or not, with self or other.
What brought me to this work was my own struggle with and healing from Interstitial Cystitis, a debilitating bladder condition. The techniques I now offer were everything in my path to full recovery from a condition that EVERY doctor told me was a life sentence. 
Through my own healing journey and work with others, it became clear that many of these conditions are rooted in early trauma experiences. Traumatic experiences can range from the trauma of a car accident or a fall to the sacrum or tailbone at a young age to sexual or emotional abuse to invasive medical procedures that did not feel consensual at a young age. 
All the phases and cycles inherent in being a womb holder, from menstruation, to pregnancy, childbirth and postpartum, to menopause contain inherent joys and losses. In addition to the physical care I offer, I hold space for the spectrum of feelings that accompany them.
Pelvic Health and Liberation
Showcase other available courses, bundles, and coaching products you're selling with the Featured Products block to provide alternatives to visitors who may not be interested in this specific product.
Check your inbox to confirm your subscription